How often do you monitor and audit the accuracy of your HCC Coding?
In past blog posts we've talked about the importance of HCC Coding & accurate risk adjustment documentation. In today's blog, we will provide you with valuable information about how to take your HCC coding & risk adjustment to the next level with M.E.A.T. criteria auditing.
As a provider, you understand the importance of HCC Coding. You probably spend a good amount of time making sure you add the correct HCC codes to your documentation, and staying up to date with adequate supporting documentation for HCC codes – all this to decrease your risk of lower payments, audits, and financial penalties.
In order to document accurately, and make this process easier, healthcare organizations use M.E.A.T. criteria standards. Following M.E.A.T. criteria standards ensures healthcare provider organizations, coding companies, practice management consultants and revenue cycle companies regularly monitor and audit for correct HCC coding.
So what does M.E.A.T. stand for? Here's an easy way to remember: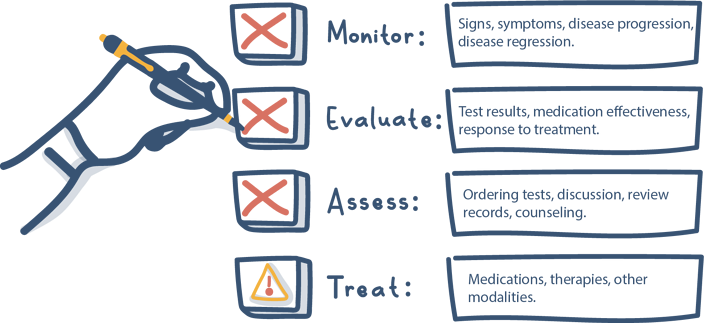 Checking all the boxes of M.E.A.T. criteria can help you be successful in RADV (Mandatory CMS and Health and Human Services Audits are called Risk Adjustment Data Validation) audits. In these audits, CMS requires codes be fully supported by documentation in the medical record and diagnosis codes (ICD‐10) submitted follow the Official Coding Guidelines. It is key that medical record documentation supports diagnosis codes submitted on a claim. Complete documentation will also help in assisting providers to meet the requirements for other alternative payment methods such as Stars, HEDIS, MIPS and MACRA.
In order to properly assign HCC codes to a claim, the provider must accurately and sufficiently document in a patient's medical record all chronic disease processes and manifestations that are both active and/or have a relevant history.
Applying the culture of MEAT to HCC logic and making sure it is in the documentation is the most effective way to ensure HCC coding accuracy.
HCC Coding & going the extra step with MEAT Criteria
As mentioned by Ahima International, coding leaders should review these problem areas with risk adjustment coding professionals. Not only are leaders ensuring opportunities for additional HCCs are leveraged, but they are also ensuring opportunities to correct erroneously reported HCCs are identified. The balance is essential to ensure overall coding compliance. A common opportunity would be related to malignancies where the coding leadership would ensure that documentation clearly supported active or historical status to avoid inappropriately capturing a HCC that could lead to an inflated RAF.
Technology for meat criteria: HCC Validator
In order to better audit documentation against MEAT criteria, Inferscience offers an HCC Validator product. The HCC Validator is a great complement to their HCC Assistant tool (more about HCC Assistant) because it uses advanced NLP technology to instantly validate HCC codes against MEAT criteria and issues a clear "Pass" or "Fail" grade for your submitted HCC Codes. The HCC Validator® takes the guesswork out of risk adjustment documentation, giving you more confidence that patients' HCC diagnoses are documented accurately and thoroughly.
The HCC Validator:
Features
* Intelligent technology that analyzes and audits diagnosis codes
* Pass or fail indication of each HCC Code documented.
* The system provides information about what needs to be reviewed and corrected in order to meet the correct criteria.
* Data sources and rule logic to define audit is provided.
Benefits
* Time savings You no longer have to spend countless hours analyzing retrieved patient charts to identify source encounter notes for reported diagnosis codes, the system does it for you.
* Accuracy in your documentation by auditing whether encounter notes have the required elements to support HCC codes based upon your guidelines
* Helps you confirm the integrity of your HCC submissions
Coding specificity Provides enough information to back up your codes with more specific information.
* Helps you ensure that the health status submitted by the plan is supported by health record documentation and meets reporting guidelines
* Helps you ensure their documentation complies with HCC reporting requirements and demonstrates that conditions are evaluated, monitored, assessed, and/or treated during face-to-face encounters.
Get more information about the HCC Validator here.